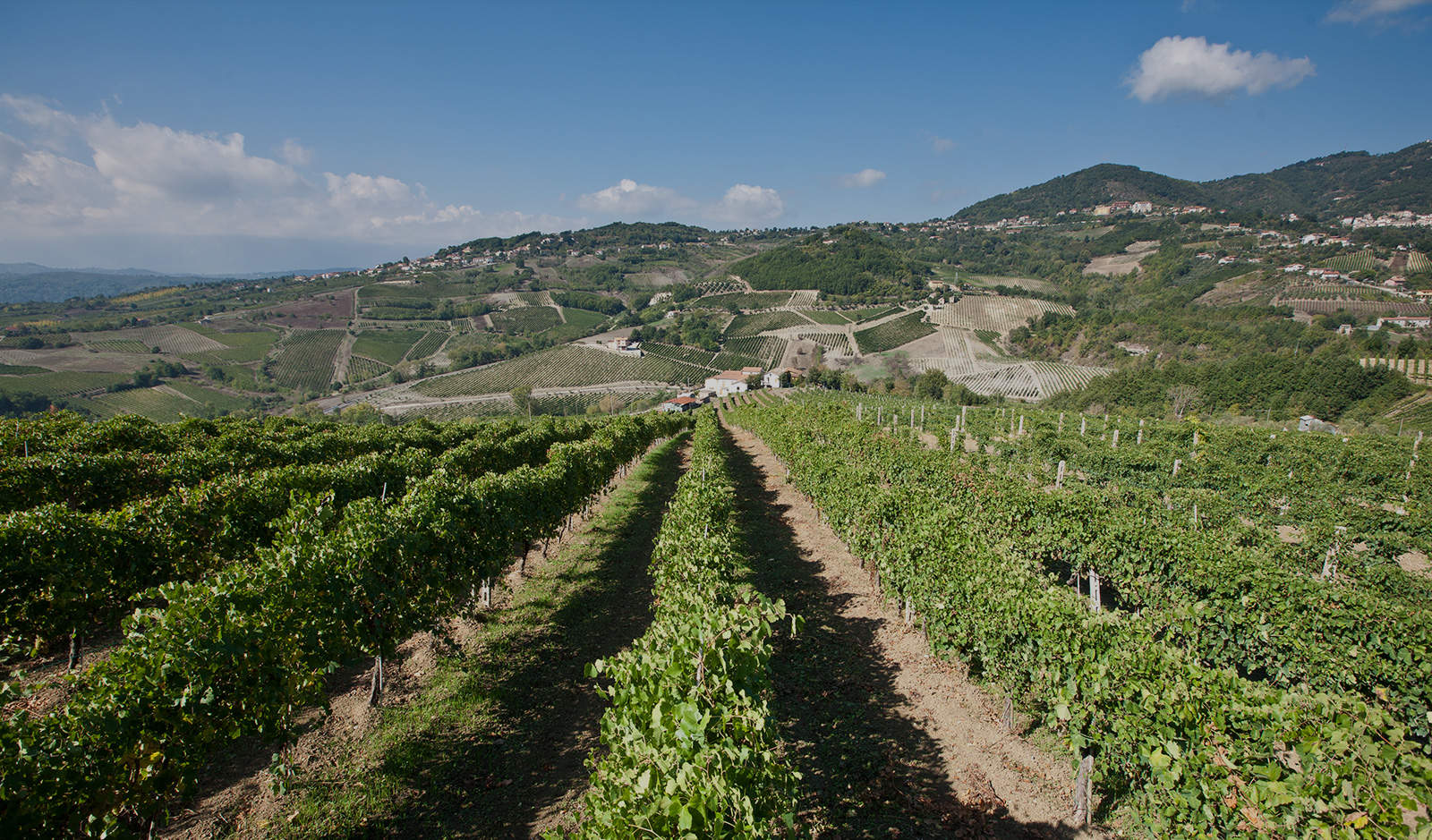 ---
The South of Italy is one of the most interesting winegrowing areas in the world. Campania, especially the sub-region of Irpinia, produces wines from native varieties such as Aglianico, Fiano, Greco and Falanghina, which can compare and compete with the finest in the world.
in campania
wineyard and wines
---
---
The Terredora di Paolo estate is located on the hills of Irpinia surrounding the valleys of the Sabato and Calore rivers. With about 180 hectares of vineyards, it is now among the most prestigious producers in Southern Italy. Although not so far from the Gulf of Naples, Pompeii, Amalfi and Sorrento, Irpinia is the inland area of Campania: hilly, mountainous and characterized by a continental climate. It enjoys a perfect soil and climatic environment for making high quality wines, a tradition started by the Greeks and Romans more than 3000 years ago. In fact, Irpinia is a quiet, harsh area nestled in the Apennines in the heart of Campania. Its landscape is a rolling succession of mountains, hills and upland plains divided by rivers and covered with lush vegetation. The identity of Terredora di Paolo wines is that of being "a precious fruit of nature worked by skillful hands". Terredora di Paolo's vineyards exploit volcanic soils rich in limestone and clay and enjoy south-facing exposure with an excellent microclimate on breezy hills (400-650 meters above sea level). With approximately 3,500 vines per hectare grown with the traditional Guyot training system, annual production is around 60 hectoliters/hectare. The grapes are harvested by hand and placed in small baskets with a minimal time span between destemming the grapes before sending them to the wine press. The native white grapes grown are Greco, Fiano, Falanghina, while the red grapes are Aglianico and Piedirosso.
Terredora Di Paolo owns and manages top-quality vineyards in premium sites across the wine-growing area of Irpinia, including:
Terre di Dora, in Montefalcione, and Campore, in Lapio. Both vineyards are planted with Fiano grapes, producing the elegantly structured and intensely flavored Fiano di Avellino, a wine with an international style and extraordinary longevity and personality.
Terre degli Angeli, in Santa Paolina, as well as Loggia della Serra, in Montefusco, are planted with Greco to produce the full-flavored Greco di Tufo, a wine with a complex and intense fruit character.
Campore is planted with Aglianico used to make Terredora Di Paolo's flagship Taurasi wine, an outstanding example of complexity. Most grapes are used to make Fatica Contadina and, only in the best vintages, for Riserva Campore.
Pietradefusi is planted with Aglianico used to make Pago dei Fusi, the latest Taurasi from Terredora Di Paolo that interprets the great native character of Aglianico in an international style.
Casali della Baronia, in Montemiletto, is planted with Aglianico, used in the blend of Taurasi Fatica Contadina, and Falanghina to produce a versatile wine and its exceptional style, showing a remarkable intensity of lively fruit character and freshness.
Corte di Giso, in Gesualdo, is planted with Coda di Volpe, Falanghina and Aglianico, used to make varietal wines.
serra di montefusco
winery
---
---
The winery is nestled in the enchanting landscape of Serra in Montefusco, in Avellino province, which is the most hilly and mountainous among the 5 districts of Campania. Set on the ridgeline, which divide Sabato river valley from Calore, Its architecture has been studied to be functional to the working processes involved in it, even if, often it turns into a nice receiving facility for the annual wine events. The winery is in Montefusco not by chance but due to the presence of own estates in Santa Paolina, Montefusco, Montemiletto, Montefalcione, Lapio; neighboring places which mark a sort of "wine route" among the 3 Irpinia's Docg areas: Greco di Tufo, Taurasi e Fiano di Avellino.
If Montefusco has a strategic position today, it is thanks to its centrality regarding the most relevant wine production areas of Campania, while, in the past its importance was political and military; it has been the Capital of Principato Ultra until 1806, when French rulers changed the administrative set up of provinces, Montefusco was considered an uncomfortable place to get to and too little for keeping its relevant political position. Its following decline damaged the economy, which started going up again only during 1970s, thanks to the recognition of DOC and DOCG in 2003 of Greco di Tufo.